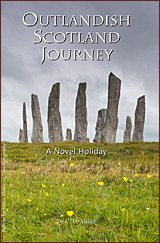 Free Sample
We know why you're here!
You are among the millions of fans, from all over the world, who have fallen in love with Diana Gabaldon's richly evocative Outlander series of novels—or, you're one of the millions who thoroughly enjoy the award-winning Outlander TV show—or, you're an Outlanderite who loves the books and the show.
You yearn to visit the magical, mystical country of Scotland—specifically, Diana Gabaldon's Scotland.
Outlandish Scotland Journey is designed to guide Outlanderites to a variety of Real-World Places:
Scottish locations mentioned in Diana Gabaldon's first three novels
(Outlander, Dragonfly in Amber, and Voyager).
Scottish sites that inspired—or resemble—Diana's fabulous fictional location descriptions.
Scottish places where significant events occurred during the 1745 Jacobite rebellion.
Scottish film sites seen on screen in the STARZ network Outlander TV series.
Real-World Gabaldon & Historic Scottish Locations Include:
Culloden Battlefield, where James Alexander Malcolm Mackenzie Fraser intended to die on April 16th, 1746.
Holyroodhouse Palace, located at the foot of Edinburgh's Royal Mile, where Jamie and Claire lodged during part of their involuntary participation in the Jacobite rising of '45.
Castle Leod, the Seat of Clan Mackenzie—a building that is over 500 years old—called "Castle Leoch" in Diana's novels.
Scottish Sites that Inspired Fictional Gabaldon Locations Include:
The Callanish Stones—this is the Scottish stone circle that most closely resembles Gabaldon's Craigh na Dun description, and the stones that inspired STARZ TV Craigh na Dun set designers.
The Dun Bonnet Cave where the real-life James Fraser of Foyers hid for seven years after surviving the Battle of Culloden.
STARZ TV Series Film Sites in Scotland Include:
Doune Castle, where all exterior Castle Leoch scenes were shot. Additionally, rooms inside the castle inspired several sound stage set designs—you'll recognize them.
Culross is the village where exterior scenes were shot for Gabaldon's fictional village of Cranesmuir. Geillis's parlor scenes were filmed within Culross Palace, and the palace's painstakingly restored 17th-century garden was used to shoot Castle Leoch's garden scenes.
The Highland Folk Museum in Scotland is Britain's first mainland open-air museum. Footage filmed here includes exterior and interior scenes of the hut where Murtagh delivered Claire after rescuing her from Black Jack Randal, as well as the rent collection villages.
We look forward to guiding Outlanderites to each of these marvelous places—and many, many more.
Please Note: The Outlandish Scotland Journey paperback is not yet finished. When it is, it will be available in our Books & Stuff store, as well as in our Wholesale Books store.
In the mean time …
Consider getting a head start by purchasing Part 1's eBook.
See our Outlandishly-large collection of Scottish places pix [86 Boards, and growing!]—with associated Outlander screenshots and film location fan pix—on our Outlandish Scotland Journey PINTEREST Page.
Follow us on Twitter @OutlandishScot
And, don't forget to LIKE us on Facebook.
Happy Outlandering!
Save
Save
Save
Save