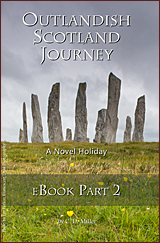 Free Sample
The Outlandish Scotland Journey travel guidebook is not yet finished.
However! To assist Outlanderites eager to begin planning their Outlandish Scotland holiday, we are publishing each of its Seven Parts as inexpensive Kindle eBooks when each part is completed.
Once the entire Outlandish Scotland Journey travel guidebook is completed, its full color paperback will become available, as well as a single Outlandish Scotland Journey eBook.
The Outlandish Scotland Journey eBook Part 2 is finished and available in our Books & Stuff Store as well as on Amazon.com!
We use Amazon's Kindle eBook platform exclusively so that we can offer the final (complete) OSJ eBook for free, with purchase of the OSJ paperback on Amazon.
Outlanderites who use other eReader devices (such as Nook, Apple, Kobo, or Sony) can enjoy any of our eBooks by using the Free Kindle Reading app available on Amazon or in your favorite app store.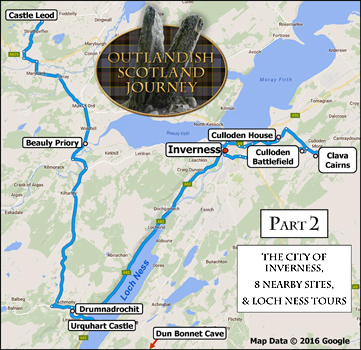 Part 2 of Outlandish Scotland Journey consists of Nine Sites:
The city of Inverness and 8 nearby locations.
Seven are rated Great Site.
One is rated Might-Be-Fun.
One is rated Skip-It and Might-Be-fun!
Outlandish Scotland Journey eBook Part 2
Table of Contents
Introduction
About Outlandish Scotland Journey (OSJ)
OSJ Parts and Outlandish Site Numbers
About the OSJ eBooks
OSJ Site Rating Icons
The Outlanderite Oath
Outlandish Extras
OSJ Fee Examples
PART TWO: Inverness and Nearby Sites

City of Inverness, Site #10: A Novel Location
Clava Cairns, Site #11: A site similar to the fictional Craigh na Dun
Culloden Battlefield, Site #12: A Novel Location
Culloden House Hotel, Site #13: A Novel Location
Loch Ness, Site #14: A Novel Location & Discussion of Local Tours
Drumnadrochit, Site #15: A Novel Location
Urquhart Castle, Site #16: A Site Rich With Jacobite History
The Dun Bonnet Cave, Site #17: A Novel Location
Beauly Priory (Beaufort Castle), Site #18: A Novel Location

Castle Leod, Site #19: The Real-World Seat of Clan MacKenzie
Appendices
Outlandish Scotland Extras
Disclaimers
Acknowledgements
Photography Credits
Copyright Information
We look forward to guiding Outlanderites to each of these marvelous places—and many, many more.
In the mean time …
See our Outlandishly-large collection of Scottish places pix [95 Boards, and growing!]—with associated Outlander screenshots and film location fan pix—on our Outlandish Scotland Journey PINTEREST Page.
Follow us on Twitter @OutlandishScot.
And, don't forget to LIKE us on Facebook.
Happy Outlandering!
Save
Save
Save
Save
Save
Save
Save
Save
Save
Save
Save